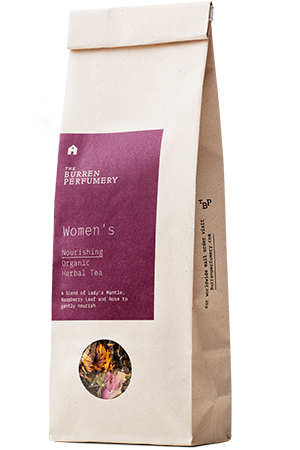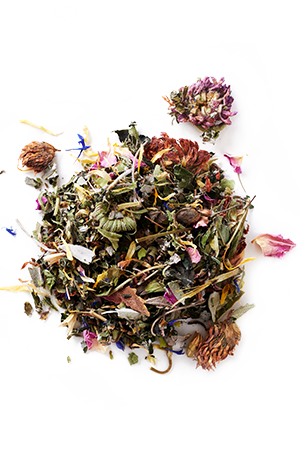 A light herbal taste with a hint of rose, this blend contains herbs that are nourishing, contain photo-oestrogen (naturally occurring oestrogen in plants and food) and are traditional tonics for the womb. Not suitable in pregnancy. 
Freshly mixed and blended at The Burren Perfumery. 100% certified organic herbs and flowers.
To brew a real herbal tea: Infuse 2 tsp of herbs in a cup of boiled water. Infuse for 5-10 mins. Strain. Can also be enjoyed once cooled. 
Nettle (Urtica dioica), Raspberry leaf (Rubus idaeus), Lady's Mantle (Alchemilla vulgaris), Sage (Salvia officinalis), Red Clover (Trifolium pratense), Marigold (Calendula officinalis), Corn flower (Centaurea cyanus), Rose hips (Rosa damascene fruc), Rose petals (Rosa damascene flos). 100% certified organic herbs and flowers.